Meet Our Team
Administrative Team
Laurie and Wendy will guide you through your dental experience and make you feel right at home! They are highly skilled at assisting patients with all of your needs including; treatment planning, financial considerations and concerns, insurance processing, scheduling, and will accommodate your schedule to make sure your treatment and appointments are completed as efficiently as possible.
Laurie Burton
Laurie B. has been a loyal, outstanding and positive employee of Pequannock Valley Dental Associates for over 11 years.  Her kind caring manner will guide you through any questions or concerns that may arise with scheduling, treatment and finances.  Laurie's passion for helping others goes far beyond our dental office. When she is not in the office she volunteers her time to help with the confirmation program at Queen Of Peace and enjoys visiting with the Elder Sisters at Mount Saint Francis in Ringwood.  Laurie enjoys spending time with her four children, five grandchildren and her puppy. Her interests also include cooking and gardening.
Wendy Vucenovic
We are thrilled to have Wendy on the PVDA Team. She brings with her more than twenty years of experience in the dental field. Wendy graduated from Berdan Institute and holds an active RDA license. Wendy is committed to being part of a team where health, wellness, and superior dental care are the primary focus. Wendy has had extensive continuing education in all areas of dentistry and has a huge passion for the industry.  She finds great fulfillment and happiness in seeing patient's lives transformed by dentistry. Wendy resides in Pompton Plains and is very active in the community. She and her husband have three children. On weekends and evenings, you can find Wendy spending time with her family, enjoying a good meal and exercising- she loves her spin classes!
Hygiene Team
Our gentle, precise, highly skilled and educated hygiene team will put your mind at ease at PVDA. Together, they promote oral health, overall wellness and comfort to every patient. Our patients know they are always receiving superior care when they see Allison, Bohdana and Debbie.
Allison Noorani
Meet our Dental Hygienist Allison! Allison has been with Pequannock Valley Dental Associates since 2007. She has developed a strong and lasting relationship with so many of our patients. Her professionalism and passion for patient care exemplifies what Pequannock Valley Dental Associates is all about. Allison grew up in Pompton Plains and currently resides in Pequannock Township with her son.  She attended Pequannock Township High School and is an active member of Saint Mary's Parish in Pompton Lakes.  Allison is a lifetime committed superfan of "BIG BLUE", the NY Giants! She enjoys spending time in the outdoors from gardening to kayaking, horseback riding, archery and is a huge animal lover!
Allison has been practicing Dental Hygiene for over 32 years and has been with Pequannock Valley Dental Associates for 11 years. She graduated from Bergen Community College with her Associates of Applied Science Degree and was the recipient of the "Best Overall Dental Hygienist" in her graduating class.  She then went to Montclair State University to pursue a Bachelor's Degree in Allied Health. To further her education, she completed the Hygiene Mastership Program in Periodontal Therapy at the JP Institute for Periodontal Therapy in California. Allison continues to take courses on a yearly basis to be able to provide her patients with the highest quality of care. She has a deep passion for being an advocate for her patients and educating them on how they can improve their oral health which will also help improve their overall systemic health. Allison's compassionate, caring and professional demeanor will assure you that you are in the right place and will strive to make your visit a very positive experience. Here's what patients are saying about Allison, "Allie is always through and explains what is to be expected."
Dana Fontana
Meet Dana, our Dental Hygienist! Her attention to detail and enthusiasm to maintain high standards in the profession are truly appreciated by the patients she sees. Dana, has been with our office since 2017. When not at the office she enjoys spending time with her family and her boxer pup, running and practicing yoga.
She has been working in the dental field for over 25 years in specialties such as Oral Surgery and Pediatrics in addition to General dentistry. Dana graduated from Bergen Community College with an Associate's Degree in Applied Science, Dental Hygiene. She is also trained in CPR certification and OSHA regulations, and licensed to administer local anesthesia and Nitrous Oxide. Dana is always improving her knowledge of the latest products and procedures to benefit the health of our patients. Her gentle well qualified manner makes her a valuable asset to our team.  Here's what patients are saying about Dana, "She is the best I've ever had anywhere: gentle, firm and thorough." 
Meet Reagan our Dental Hygienist! Reagan joined our team in September of 2018. Her upbeat, positive and courteous rapport makes her a welcomed addition to our team.  Reagan is from Midland Park and enjoys spending time with her parents, siblings their spouses and her three nephews. When not at the office she enjoys playing the violin, painting and discovering new music.  
Reagan attended Bergen Community College for her Dental Hygiene Degree and belonged to Sigma Phi Alpha, Dental Hygiene Honor Society. It was in hygiene school that she received her "Certificate of Dental Leadership." Reagan is an active member in the American Dental Hygiene Association and continues to further her education by taking courses including implant home care.  She would like to continue her education by completing a Bachelor's Degree in Health Sciences in the near future. Her calm, easy going, friendly manner has been welcomed by our patients. 
Assistant Team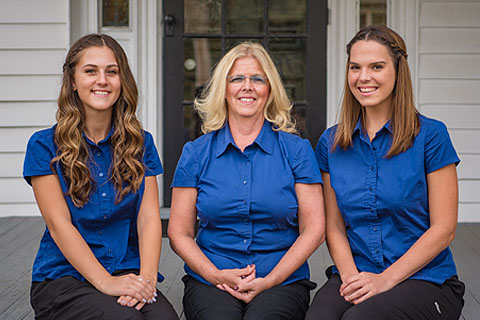 Our assistants will ensure you have a fantastic dental visit, easing your mind and all your concerns. They are highly trained and educated in providing each patient with the care and comfort they need during your appointment.
Linda Lacherza
Meet Linda, our loyal and compassionate dental assistant. Linda, has been with Pequannock Valley Dental Associates for over 11 years. She brings a wealth of knowledge in dental assisting and has an uncanny ability to make patients feel at comfort throughout the duration of their appointment. Linda is an avid football fan and a dedicated superfan to the Minnesota Vikings! When not at the office Linda enjoys spending quality time with her husband who she has been married to for 39 years. She also has two beautiful daughters who are very accomplished and  make her proud.  Linda attended Bogota High School and received her assisting degree from Lyons Institute for Dental Assisting. She continues to elevate her education and personal growth by attending seminars out in Scottsdale Arizona at the Spear Center. Here's what people are saying about Linda. "She is ready and prepared in assisting Dr. Marino." Her cheerful and friendly manner makes me feel so relieved."
Cara
Meet Cara! Cara has a magical way about her and knows exactly what to do to provide much comfort to the patients so they are at great ease. She will be sure to put a smile on your face. You can find Cara sitting courtside cheering on her favorite college basketball team, The Blue Devils! Cara enjoys spending quality time traveling with her husband Joe and soon to be little boy in July of 2019. Cara grew up in Pompton Plains and attended Berdan Institute for her assisting degree,CDA and is currently working towards her expanded functions certification. Here's what people are saying about Cara: "She's a doll." "I would have been much more nervous if Cara did not hold my hand." "LOVE the Dental Assistant Cara."